Over 30 strong, powerful and wonderful women gathered at 2nd Gear Motorcycle Culture in Ayr,Ontario to celebrate the launch of the 2020 "Real Women That Ride" Calendar.
The calendar features photographs of women riding their motorcycles. It also included action shots from this past summer's first ever: Women Choosing Change – A Charity Ride -supporting women in our YW Programs facing or experiencing homelessness.
Attendees celebrated being featured in the calendar as real women who love riding motorcycles – because let's face it -the depiction of women on motorcycles in the media and in magazines is just not reality.
The YW was a part of this wonderful day and we were elated to find out that in total, almost $1200 worth of calendars were purchased which will be donated to our Emergency Shelter and programs to help and support women and children.
Special thanks to 2nd Gear Motorcycle Culture for organizing this annual event, for helping us share the message of the impact of the work we do, and for supporting & inspiring wonderful women everywhere.
If you are interested in hosting a fundraiser or donating, click here.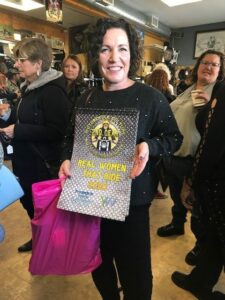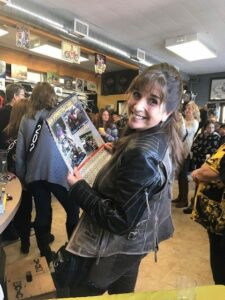 Above left – one of the many inspiring and real calendar girls featured in the 2020 Real Women That Ride Calendar. 
Above right -owner Carol Ann Whalen, 2nd Gear Motorcycle Culture in Ayr,Ontario