Heather Lackner's 45-year relationship with YW Kitchener-Waterloo began with her father and mother.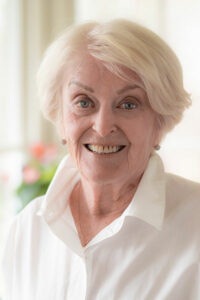 Newly immigrated from England in the 1920s, Sidney McLennan was just 15 when he left home to live at the YMCA at the corner of Queen and Weber Streets. In exchange for board, he taught swimming and basketball and worked in the kitchen. "It was supposed to be a temporary relationship," laughs Heather, "but he stayed until he was 23."
When World War II broke out, Sid worked for the YMCA as director of physical training and recreation, helping to prepare Canadian soldiers for deployment.
Those early experiences shaped every experience that followed, including fatherhood.
He never, ever stopped telling his story as evidence of why we needed to give back to our community in any way we could," says Heather.
Her mother, Elizabeth McLennan, gave back to the community by becoming a member of the Board of Directors of YW Kitchener-Waterloo.
So when Heather was invited to join the YW Board in 1974, she saw it as her destiny. She has had an indelible impact over forty years, serving in many executive roles and founding the YW's giving circle, Club 84, which was named in honour of the YW's then address— 84 Frederick Street. Club 84 began with Heather's request to 84 friends to give $84 to the YW every year.
"We reached our goal in absolutely no time, so we decided to go for the moon," Heather remembers.
Since 1980, 850 past and current Club 84 members have raised $2 million for the YW. Interest from the YW's endowment funds, to which Club 84 members have contributed substantially, brings in an additional $65,000 in revenue every year. Today, the Club's nearly 300 members, including Heather, continue to make annual contributions.
What's even more impressive is the close family connection and dedication to the success and continuation of Club 84 . Heather's daughter; Lindsay Mclennan-Lackner is the 3rd generation to belong to Club 84.
"I hope that Lindsay will take the torch and pass it on to future generations to spread the word about the important work we do." 
Heather is especially proud of the club's impact on young women who, she says, are too often trapped in a cycle of poverty, abuse, and poor self-esteem.
She likes to use her father's story to prove that there is light at the end of the tunnel.
Years after his stay at the YMCA, Sid McLennan went on to serve as three-time mayor of the City of Kitchener.
"It just illustrates what people can achieve when they're given a chance," smiles Heather.
Learn more about our Giving Circle: Club 84.