We specifically choose the wonderful team at Plasticity Labs in Kitchener to partner with for this year's first; Merry & Bright Fundraiser!
We created adorable star-ornaments that are hung on Plasticity's Christmas Tree at their head offices. Each star reveals an item on our much-needed wish-list, and staff and friends can choose a special star to take with them to the store or to their homes. ( we are accepting new and gently used items) Once items have been collected, they will make their way back to the Christmas tree for pick up and distribution.
We believe in supporting the women, children and families in our emergency shelter who need these items and we believe in partnering with community heroes like the team at Plasticity to help us spread the word about the great work that we do, and to spread a little Christmas cheer this year so all people in our programs feel merry and bright.
Together the clients, friends and family at Plasticity was able to collect bags and bins of useful items that will be given to our clients & programs to help women, children & families this Christmas Season! #merryandbright #ywkw #plasticitylabs #plasticity #grateful
If you are interested in hosting a fundraiser or donating, click here.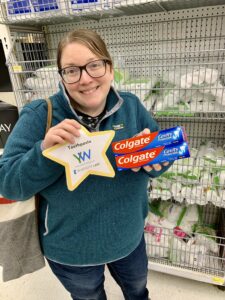 (above: Kate – team member at Plasticity)