After over three months of providing those in need with a safe place to go during COVID-19, on June 28, 2020, our A.R. Kaufman YMCA Temporary Shelter will be closing its doors.
Partnership has never been more important than in these unprecedented times, where the rapid economic downturn has led to a spike in demand and revealed social infrastructure too inadequate to cope. To continue to provide vulnerable communities with the necessary support to weather this crisis, we were going to have to partner up to help meet our community's ever-growing need.
Space was what we required to allow our clients to adhere to shelter-in-place precautions. And space is what our wonderful partners at the YMCA gave us when they offered up the A.R. Kaufman YMCA family centre as a temporary place to house individuals experiencing homelessness.
Now, as the Kitchener, Cambridge and Waterloo regions move into Phase 2 of the Province's COVID-19 reopening plan, strict social distancing restrictions have been lifted and facilities like A.R. Kaufman YMCA will be looking into preparing themselves for a return to regular operations.  As such, plans are now underway to close our temporary shelter by the end of the month.
With the help of the YMCA and its family centre, we were able to provide shelter to over 200 people experiencing homelessness through the most difficult times of the pandemic.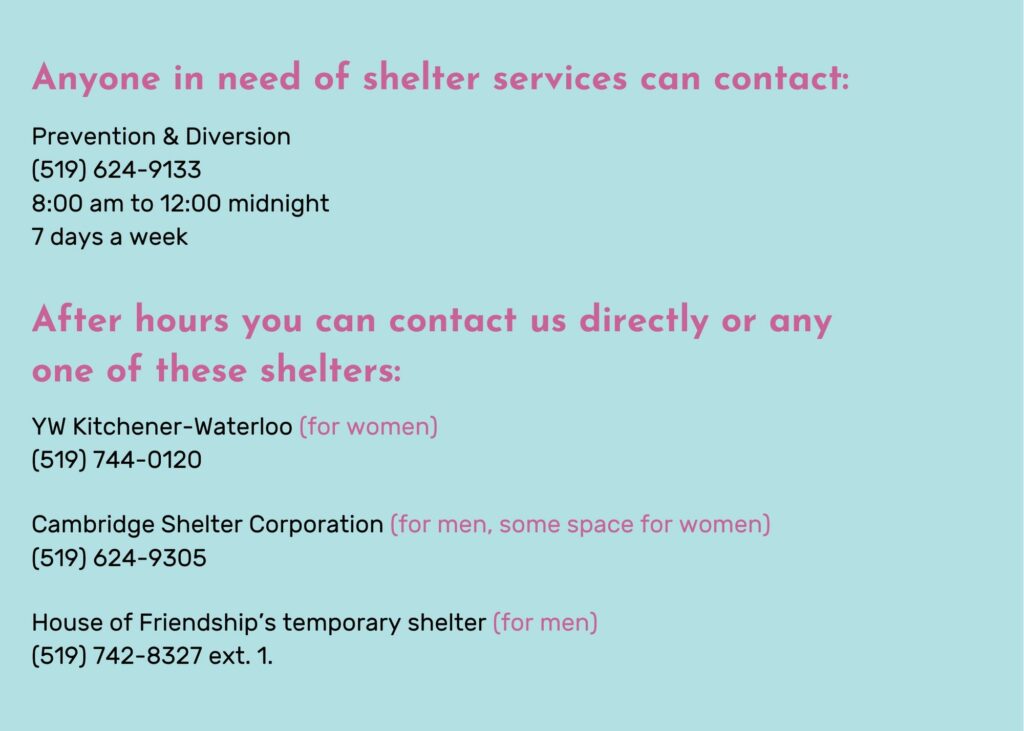 We will continue to admit new clients in need of shelter beds into our temporary shelter until its close.
We're grateful to all of our partners, our phenomenal staff and everyone who played a role in coming together to support people experiencing homelessness and assist with transitioning through these uncertain times.
Special thanks go out to:
The Inner Health Alliance Team and
The Food Bank of Waterloo Region!
The worst is not yet behind us. But, we continue to look ahead. We remain committed to providing vulnerable communities with the support they need to make it through these unparalleled times.
In a position to give? Make a donation today and help support women and children experiencing homelessness.